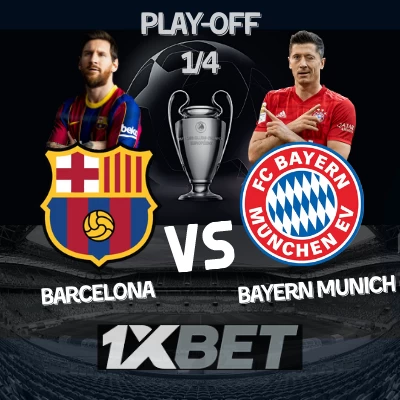 Barcelona — Bayern Munich, 1/4 play-off League of Champions
Last update on: March 16, 2021
Don't plan anything on that Friday, the Champions League quarterfinal game is coming up. On August 14, Lisbon's «José Alvalade Stadium» will host another one – FC Barcelona vs Bayern Munich.
The club Munich is rightly considered as the chalk of this season's Champions League – the team hasn't lost any match yet and has scored 24 goals already. In addition, Robert Lewandowski is undoubtedly the top scorer of this season's. Bayern as an icebreaker climb against others, but the opponent is a tough enough this time either.
As for Barcelona, they played less successfully in 1/8 compared to Bayern.
With Italian Napoli, the Catalans were played a 1:1 draw first, but in the second game won 3:1 and kicked off Napoli from the tournament.
Barcelona also showed quite low season in the national La Liga: the 2nd place only with 82 points and 5 points behind the «Royal club». While Bayern has won Bundesliga 1st place for 30th time.
In the last 5 games, Barcelona has 4 wins and 1 loss against Osasuna in La Liga – the game was ended 1:2. At the same time, Bayern has 5 wins... A little bit more wins, actually. As well as a series without losing.
Let's turn to lineups: the Catalans have Samuel Umtiti and Usman Dembele injured, but the second one's not for sure yet. The Bavarians will definitely play without Pavar, but as for Joshua Zirkezee, it isn't clear by that time. Although they'd got Lewandowski, judging from the past matches, it would be enough.
The odds for that match are the following:
3.64 – Barcelona wins
4.1 – a draw
2.008 – Bayern Munich wins
Judging by the last head-to-head match and Bayern current line-up, we suggest definitely bet on Bayern wins and total over 2.5 – 1xbet's got odds 2.65 for that outcome, which is quite sufficient. Good luck!